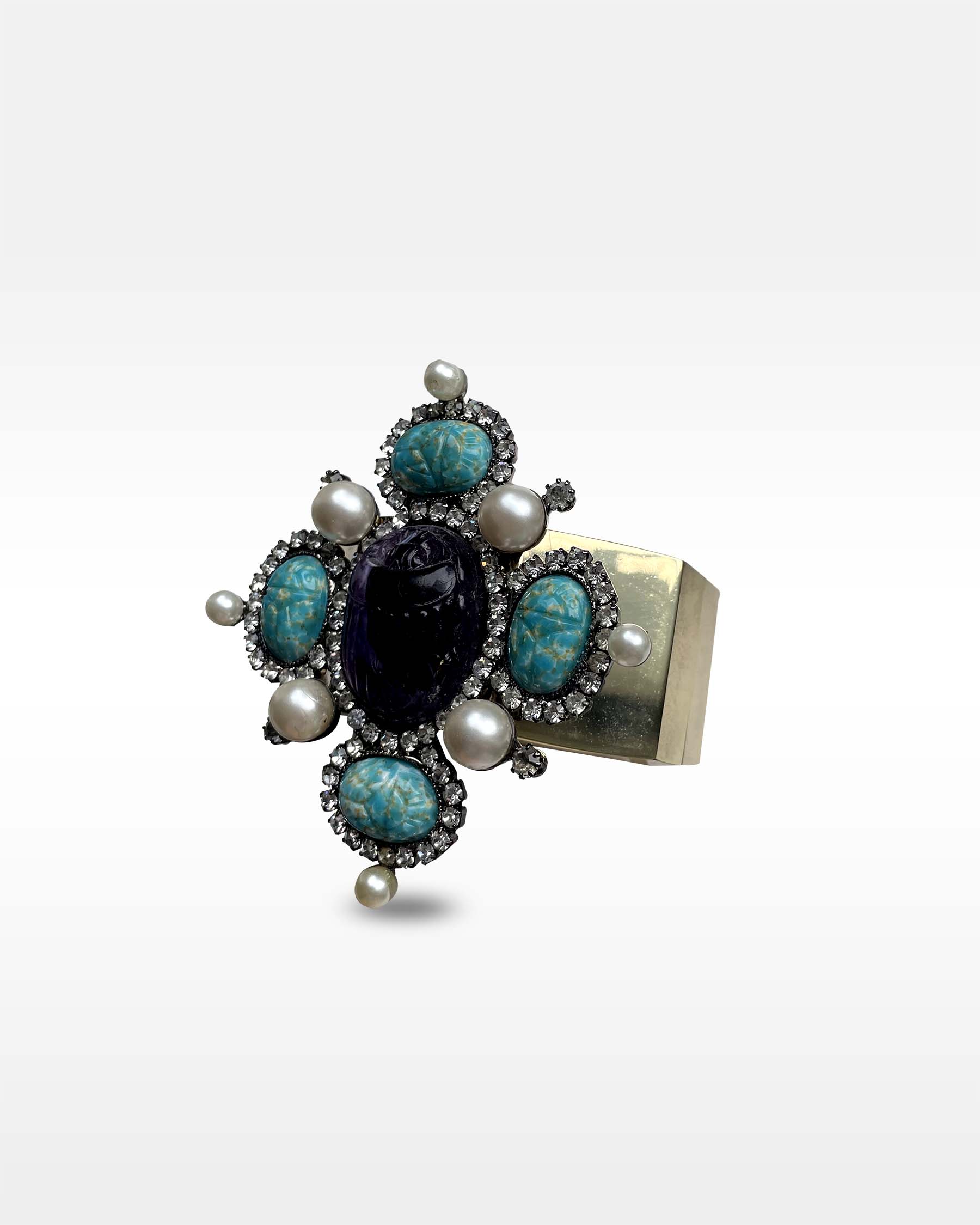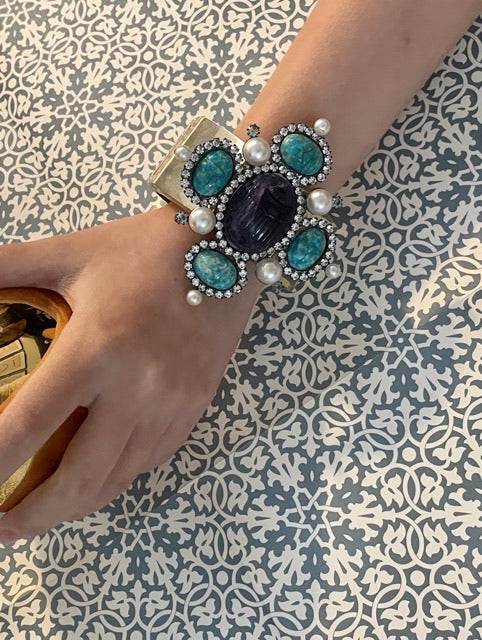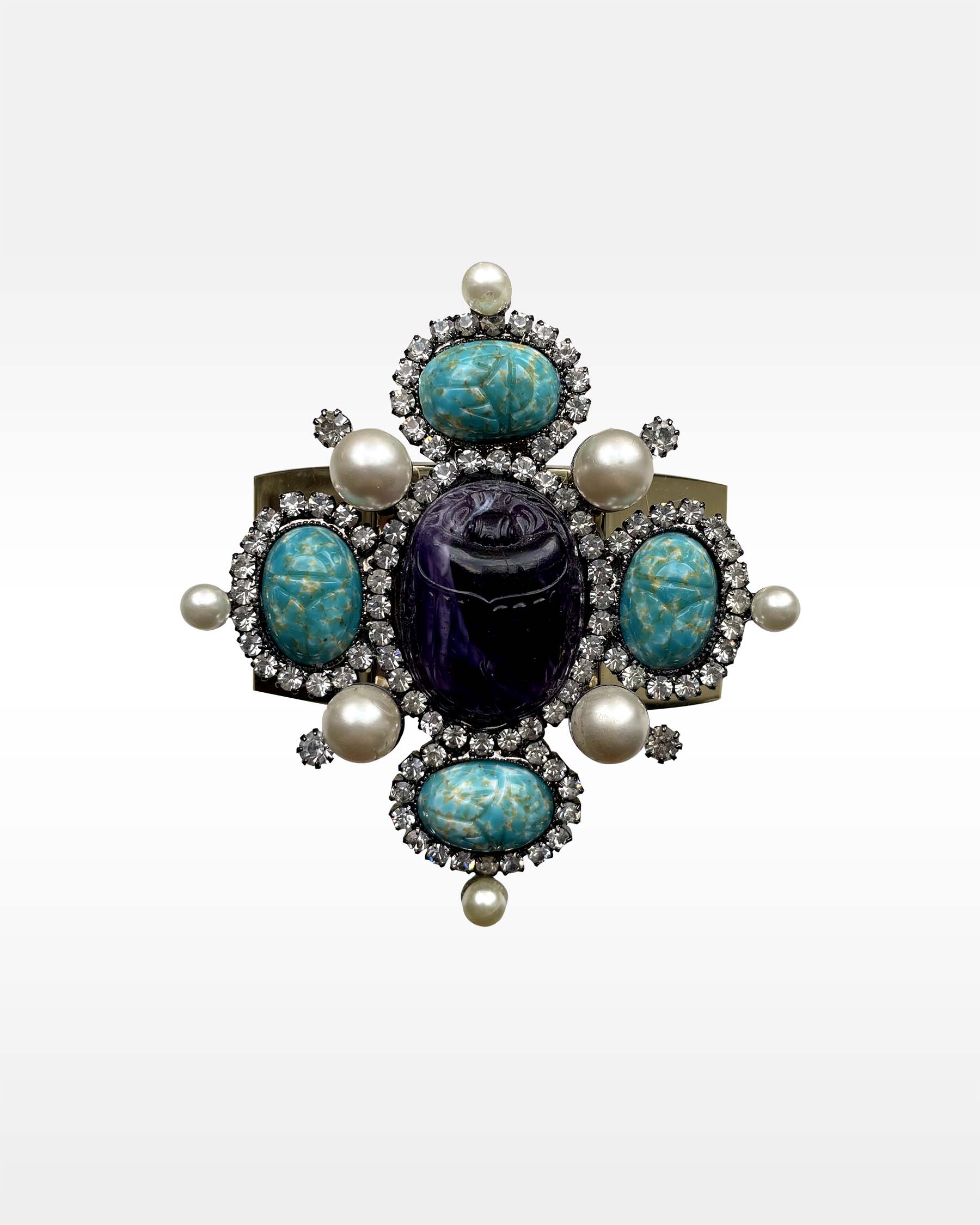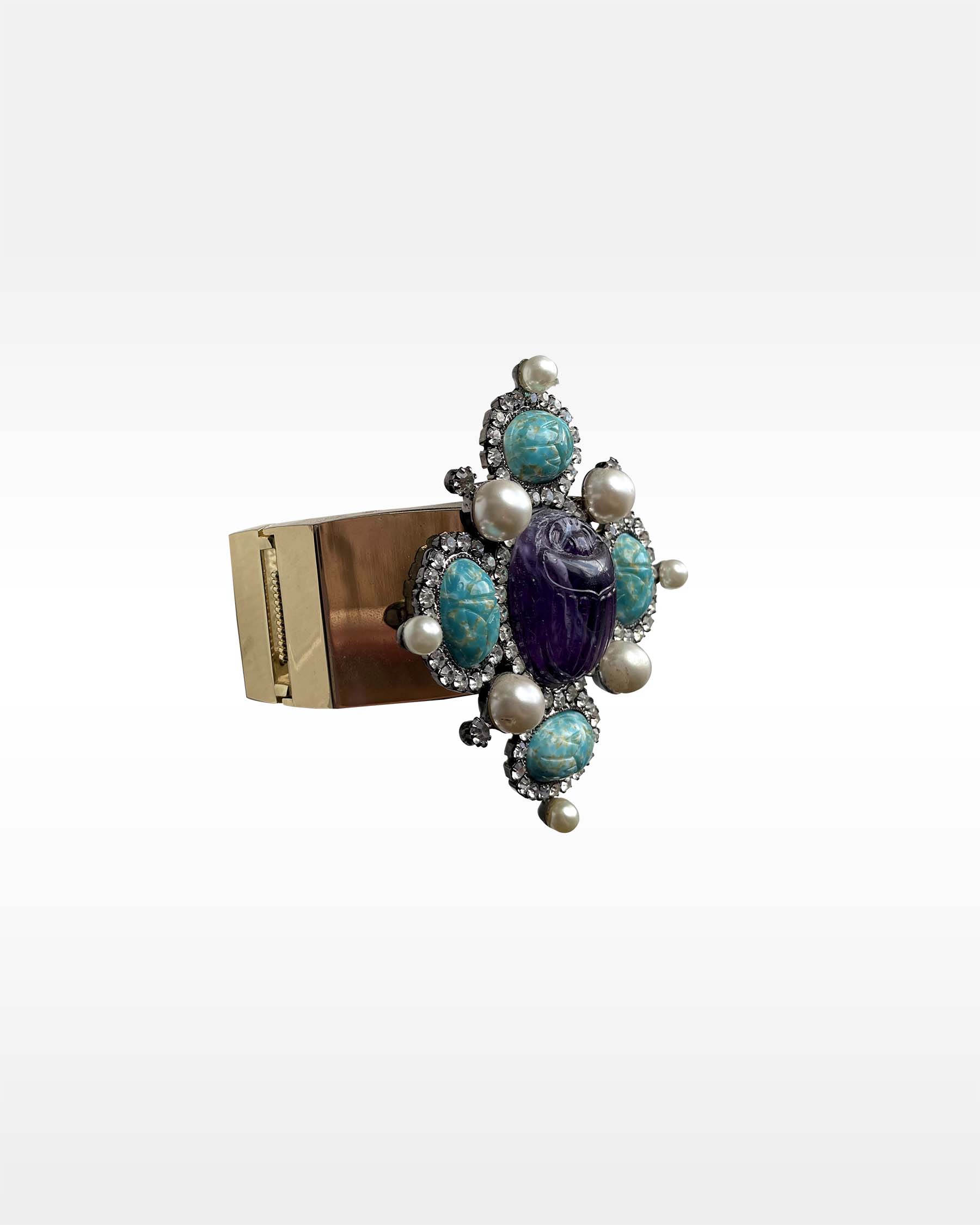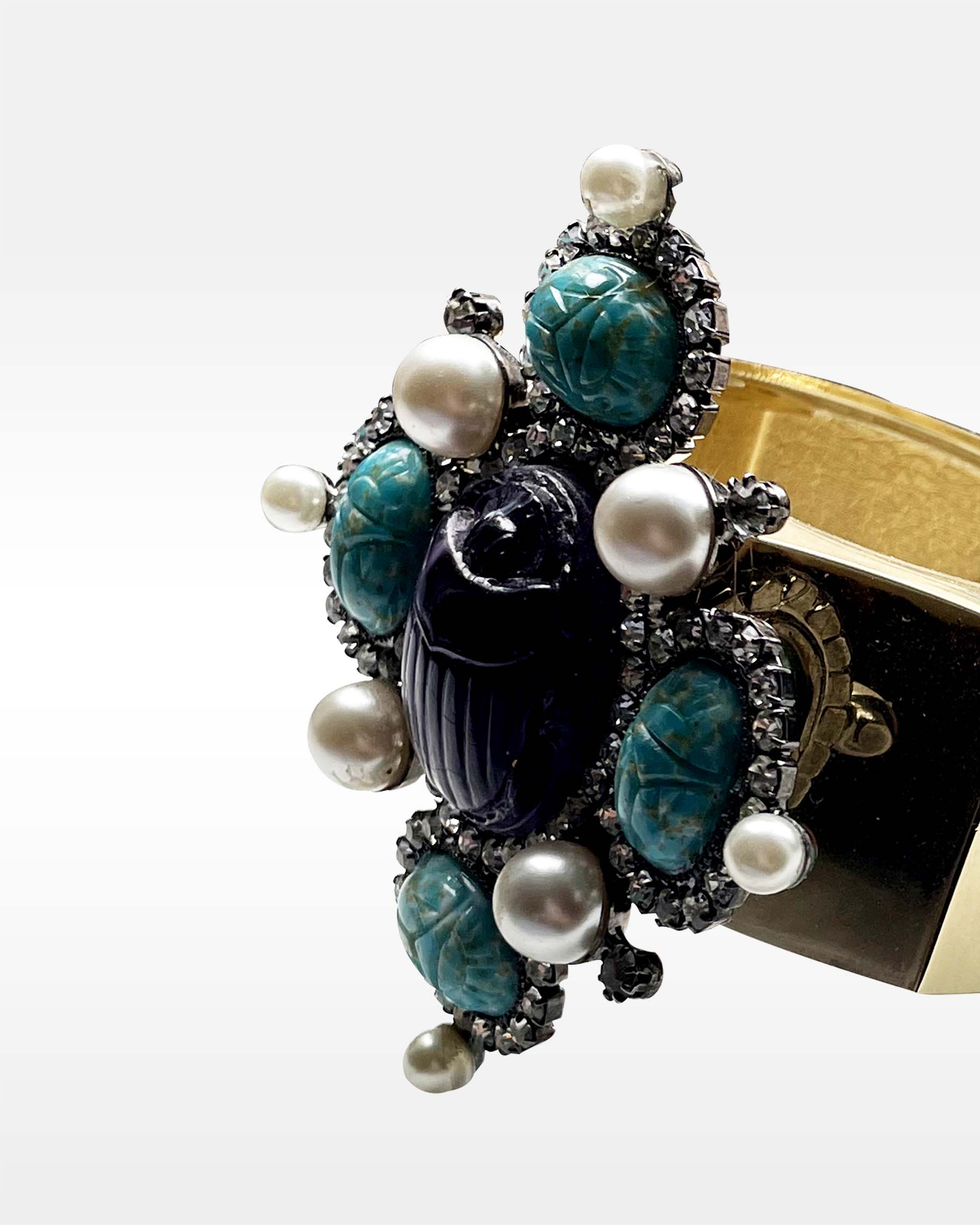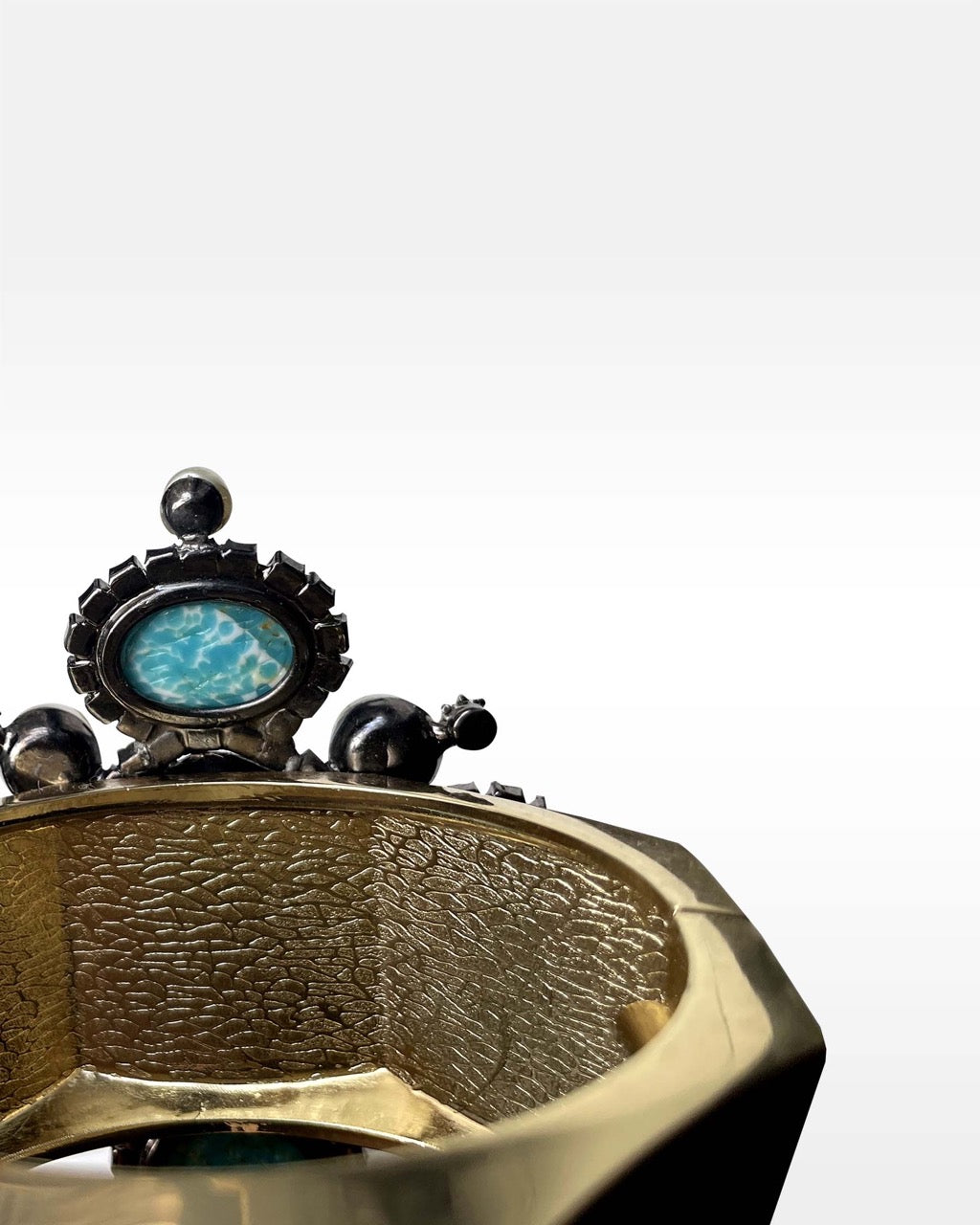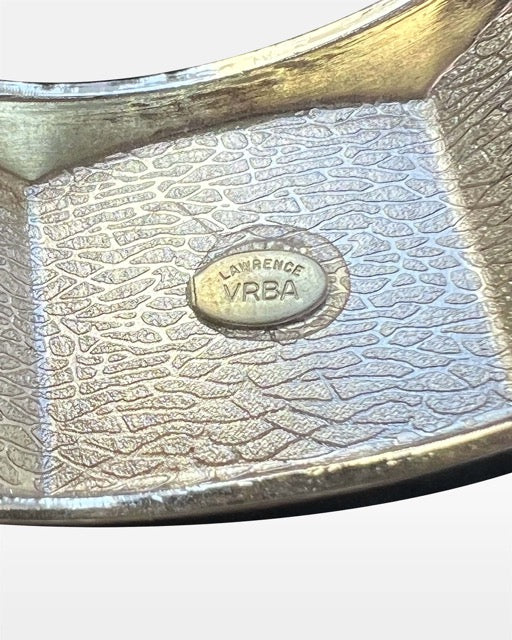 Lawrence Vrba Style Bracelet
Rare And One-Of-A-Kind Vintage Pieces
Central purple glass scarab mounted in a black metal cross frame with faux turquoise stones and clear rhinestones, with each arm ending in a large faux pearl. Cross is mounted onto a large gold clamper cuff. Signed Lawrence Vrba cartouche is affixed to inside of cuff but has clear glue marks which shows it was added onto piece separately.
Materials:
metal/rhinestones/faux pearls

Size:

8" circumference
1.25" long x 1.25" wide for mounted cross

Color/Finish:

gold/blue/purple/white/clear

Condition:
good – cross section has the quality craftsmanship of Vrba, but cuff portion seems to be created later and not original to the cross.
In 1969, Larry Vrba moved from Nebraska to New York City and worked as a designer for Miriam Haskell. In the 1970s he then worked for William De Lillo, Castlecliff and Les Bernard before forming his own company in 1983. Known for his big, bold and whimsical pieces, he would combine vintage rhinestones and beads into his own contemporary designs. He also worked on costume designs for Broadway shows such as Hairspray and Wicked. His designs were carried in Bergdorf Goodman and are celebrated and worn by the world's most glamorous clientele.
Shipping Information

We use the US Postal Service, UPS, and DHL to ship worldwide. Ground, 2nd Day Air and Next Day options are available at checkout.

We offer free ground shipping in the United States on qualifying orders of $500 or more.

For international shipments, Vanessa's Vintage is not responsible for any additional customs fees, duty, or country-specific taxes that may be charged once the package arrives at the destination country. Those charges are the responsibility of the purchaser.
Returns & Exchanges

Domestic purchases shipped within the United States can be returned for a refund within 14 days of receipt. Items must be undamaged, and a return handling fee of $15 will be deducted from the refund amount. To request a return, please contact us here.

Please note all international sales are final and cannot be returned.
ABOUT
THE COLLECTION
The curated pieces in our collection date from the 1920s – 1990s. We sell original vintage jewelry from well-known designers such as Christian Dior, Givenchy, and Lanvin, as well as pieces from historic designers such as Coro, Hobé and Schreiner. We guarantee authenticity and each piece we sell is environmentally sustainable, unique, and beautiful. The vintage items in our collection are incredibly well-made and uncommon—because great craftsmanship and design are timeless and never go out of style.